Description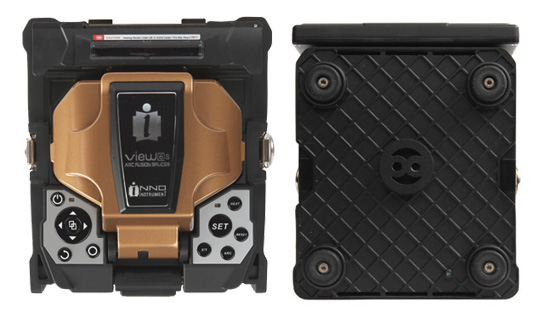 View 6S, a core-alignment fusion splicer with the world's highest fiber image magnification rate, is the most dependable fusion splicer in the market. View 6S's 5 inch high-resolution color LCD touch screen with user-friendly intuitive GUI (Graphical User Interface) offers large and clear fiber images to users. By double-tapping the screen, users can Zoom In & Out the image to the world's highest magnification of 520x. View 6S offers maximum work efficiency through the fast heating time of 13s. View 6S brings satisfactory working experience to its users in FTTx field, which is compatible with being widely used fiber-optic cables, and short v-groove length makes the splicer capable of splicing 5mm cleave length suitable for splice-on connector. Moreover, the 3 LED lights provide bright splice condition to the users working under dark environments. View 6S is the new industry standard of core-alignment splicer in the telecommunications industry.
Features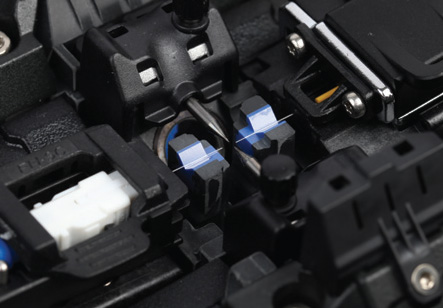 Core Alignment Splicing Method with DACAS (Digital Analysis Core Alignment System)
The World's Highest Magnification and Resolution
5" High-Resolution Color LCD Touch Screen
User-friendly Smart GUI
Double Tap to Zoom in & out
Fast Heating Time
Short Cleave Length Splicing Capability
Detachable SOC Holder and Heating Oven
High Capacity Battery
3 Bright LEDs and Illuminated Keypads For Dark Environment
Ceramic Clamp for Improved Durability
Easy to Replace Electrodes
Protective Cover
Harsh Weather Conditions Adaptability
2.07kg weight (without battery)
Display





5" High-Resolution Color LCD Touch Screen
The View series certainly outdoes the other splicers' viewing experience.
Measuring a vast 5 inches across, the color LCD display has the highest resolution of 800 x 480 with very wide viewing angles.
Magnification



Double Tap to Zoom in out
By double-tapping the screen, users can zoom in the fiber image to the industry's highest magnification of 520X.
So INNO Instrument achieves that fiber condition can be easily inspected with unaided eyes.




Interface



User-friendly Smart GUI
The advanced splicing functionality is available through clear options in tile-based design, so experts and even novices can understand its operation without assistance or special training.


Heating Performance







Fast Heating Time of 13 sec
View 6s has significantly increased the speed of heating to 13 sec, which delivers maximum work efficiency.

SOC Compatibility





Detachable SOC Holder and Heating Oven
View 6s's SOC compatibility with Detachable SOC holder and heating oven delivers satisfactory experiences to users in FTTx field.




Battery







170 Times (Splice & Heat).

The battery capacity is 4200mAH. Also, the battery life will be demonstrated via 5 stage of battery indicator




LED light






3 Bright LEDs For Dark Environment
Even in a dark environment, the industry's first 3 LEDs are just bright enough to cast a light on the fiber holders as well as the splice point.




Clamp



Ceramic Clamp for Improved Durability
Ceramic-made fiber clamp can secure the durability of stripped fiber by minimizing the damage on the fiber surface.



Electrode Cover



User-friendly Electrode Cover

Specially designed electrode covers make users replace electrodes in a much easier and faster way without any tools.

Dimensions




Height: 5.98 inches (152 mm)
Width: 5.78 inches (147 mm)
Depth: 6.88 inches (175 mm)










BROCHURE :

View Series Splicers Comparison

:





CERTIFICATE OF DISTRIBUTION:


Specifications

Model
View 6S
Dimensions
143H x 130W x 155D mm (excluding rubber bumper)
152H x 147W x 175D mm (including rubber bumper)
Weight
2.43KG (with battery)
2.07KG (without battery)
Number of fibre
Single
Applicable fibres
SM (ITU-T G.652 & G.657)
MM (ITU-T G.651)
DS (ITU-T G.653)
NZDS (ITU-T G.655)
Compatible fibre / cable
0.25~3.0mm
Indoor cable
Cleaved length
Diameter: 0.125~1mm
Cleave length: 5~16mm
Cladding diameter
80~ 150μm
Splicing mode
Preset 7 modes
Max 128 modes
Heating mode
Preset 5 modes
Max 32 modes
Typical splice loss
SM: 0.02dB
MM: 0.01dB
DS: 0.04dB
NZDS: 0.04dB
G.657: 0.02dB (ITU-T Standard)
Return loss
>>60dB
Lighting
3 White LEDs
Splicing time
Auto mode: 9 sec
Quick mode: 7 sec
Estimated splice loss
Available
Protection sleeve length
20~60mm
Heating time
FP-03 typical heating time: 13 sec
Results storage
The last 2000 results
Tension test
1.96~2.25N
Operating condition
Operation altitude: 0~5000m
Relative humidity: 0~95%
Temperature: -10~50°C
Max Wind: 15m/s
Storage condition
Relative humidity: 0~95%
Temperature: -40~80°C
Display
90° bi-directional view
5.0" Color High Resolution Display
Fibre view & magnification
X, Y, XY, X/Y: 520 Magnification
Power supply
AC input 100-240V
DC input 9-14V
Battery capacity
4200mAh battery capacity, typical 170 times (Splice+Heat)
Operating methods
Buttons, touch screen
Automatic calibration
Automatic arc calibration by air pressure and temperature
Electrode life
3500 arcs, can be extended by using an electrode grinder
Terminal
USB 2.0
Mini USB

Package

Model
Qty.
Fusion splicer
View 6S
1
High precision cleaver
V7+
1
Fibre holders
VFH-40s (equipped)
FH-SOC
1
1
AC adapter
JS-180300
1
Cooling tray
CG-22
1
Electrode
E-50
1
Battery pack
LBT-50
1
Power cable
ACC-25
1
Carrying case
NBX-35
1
Cigarette lighter cable
CJ-11
1
Mini USB data cable
-
1
Rozszerzona 3-letnia gwarancja dotyczy samej spawarki jako urządzenia, na pozostałe elementy zestawu takie jak gilotynka i bateria obowiązuje 12 miesięczny okres gwarancji (1 rok). (Extended 3-year warranty period is only for a fusion splicer itself, for other package elements like cleaver and battery there is a 1-year warranty period)
Rabaty przyznawane automatycznie na cały asortyment sklepu, w odniesieniu do spawarek nie mają zastosowania w pełnej wysokości (Discounts, which are counted automatically on the entire store offer, aren't entitled for fusion splicers, in their full value)